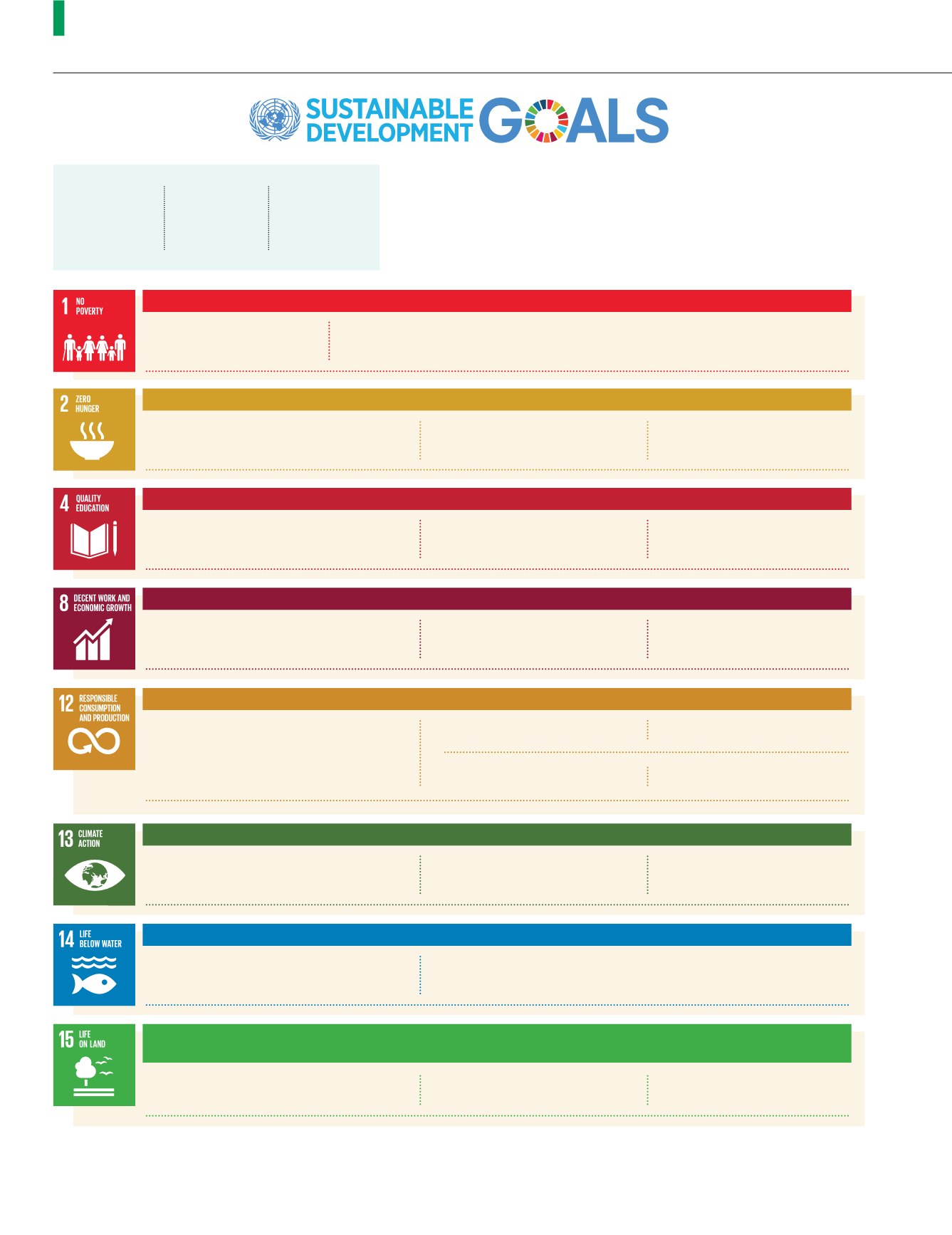 4 8
Sustainability report
These areas are closely aligned to our established material marketplace, social and environmental aspects covered in this,
and earlier, sustainability reports.
The Sustainable Development Goals (SDGs), otherwise known as the
Global Goals, are a universal call to action to end poverty, protect the
planet and ensure that all people enjoy peace and prosperity.
Below we highlight the areas where the Group can make the most contribution to
the achievement of the SDGs and those which are closely related to our businesses:
17
ASPIRATIONAL
OBJECTIVES
169
DEFINED
TARGETS
14
YEARS
2017-2030
Economic empowerment/livelihood via
creation of employment
and business opportunities
for local communities
End poverty in all its forms everywhere
HR policies on
minimum
wages
&
fair pay
Responding to the increased
demand for
affordable protein
End hunger, achieve food security and improved nutrition and promote sustainable agriculture
Potential
higher yield
and
extraction
through
adoption of good agricultural practices
Maintaining
high food
safety standards
Philanthropic
initiatives
in the
areas of education and youth
development
Ensure inclusive and equitable quality education and promote lifelong learning opportunities for all
Support of employees personal and
professional development through
training programmes
Wellbeing
of local
communities
Ensure
good health
,
safety
&
employment
conditions
Promote sustained, inclusive and sustainable economic growth, full and productive employment and decent work for all
Positive
contribution to economic growth
in the countries in which we operate e.g.
via tax & other contributions
Strong stance against
forced
or compulsory labor
and child labor
Water
&
waste
management
Adoption of
good
agricultural practices
Conservation
of fish resource
through responsible procurement
Ensure sustainable consumption and production patterns
Commitment to
implement & maintain
supply chain transparency and adherence
to international standards (NFA, Marine
Stewardship Council, Dolphin Safe, MSPO,
ISO etc)
Use of
renewable energy
& efficiency of energy use
Water
&
waste
management
Adoption of
good
agricultural practices
Protect, restore and promote sustainable use of terrestrial ecosystems, sustainably manage forests, combat
desertification, and halt and reverse land degradation and halt biodiversity loss
Use of
renewable energy
& efficiency of energy use
Zero
tolerance
approach to illegal,
unreported and unregulated ("IUU")
fishing
Conserve and sustainably use the oceans, seas and marine resources for sustainable development
Commitment to
implement & maintain
supply chain transparency
and adherence to international standards (NFA, Marine Stewardship
Council, Dolphin Safe, MSPO, ISPO etc)
Water
&
waste
management
Adoption of
good
agricultural practices
Take urgent action to combat climate change and its impacts opportunities for all
Use of
renewable energy
& efficiency of energy use