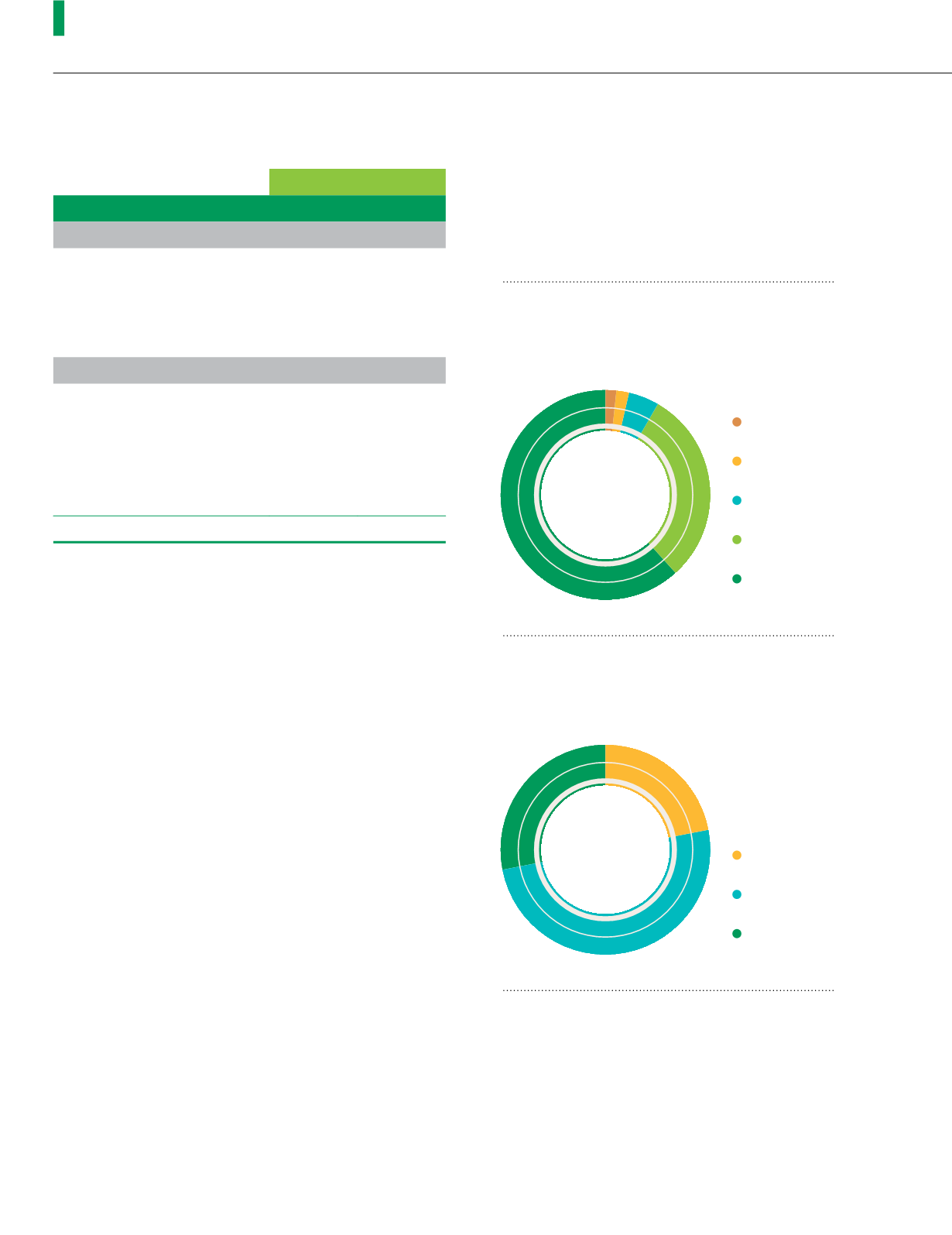 5 4
Sustainability report
Waste Disposal by Type
Volume (tonnes)
FYE2017 FYE2018
Scheduled Waste:
Ink containers
3.70
3.58
Contaminated rags
2.90
3.11
Printing ink waste
5.40
3.58
Recycle used oil
15.64
34.05
Solid Waste:
Shredded paper
242.20
209.53
Used Tyres
-
6.00
Scrap Crushed Iron
-
6.00
Food Waste (Head Office)
-
2.53
Plastic (Head Office)
-
0.39
Total
269.84
268.77
Water Management
The Group's businesses remain focused on efficient water
management through, inter alia, reusing water throughout
their operations and rainwater harvesting.
Food Division
's
PNG subsidiary, IFC is continuing their efforts to identify
opportunities to reduce their water consumption using a variety
of approaches including water recycling, replacing faulty
equipment, and fixing leakages. In addition, the
Plantation
Division
has installed rainwater tanks at the workers' quarters
in our Miri and PTNJL estates. This allows us to harvest
rainwater to be used for daily consumption. Weirs have also
been constructed across the field drains at our Miri estate to
facilitate water retention and maintain the groundwater table
at optimal levels.
During the year, water consumption of PTNJL's palm oil mill
in Sei-Manggaris has increased by 19% compared to last
year, largely as a result of the increase in the volume of crops
processed during the year.
PTNJL has also set aside areas within its plantation as water
catchment zone. Chemical applications are strictly prohibited
at the water catchment zone to facilitate natural re-vegetation
of the area and preservation thereof.
Breakdown of water consumption
by division (m
3
)
Manufacturing
15,391 
(2.1%)
Head Office
12,511 
(1.7%)
Bulking
33,666 
(4.6%)
Plantation
451,798 
(61.5%)
Food
221,066 
(30.1%)
Breakdown of water usage
by mill (m
3
)
Domestic
86,792.2 
(22%)
Processing
110,462.8 
(28%)
Boiler
197,255 
(50%)
394,510
m
3
of water consumption by mill in FYE2018
(FYE2017: 331,172 m
3
)
734,432
m
3
Total water consumed by the Group
Water consumption
SUSTAINABILITY REPORT 2018