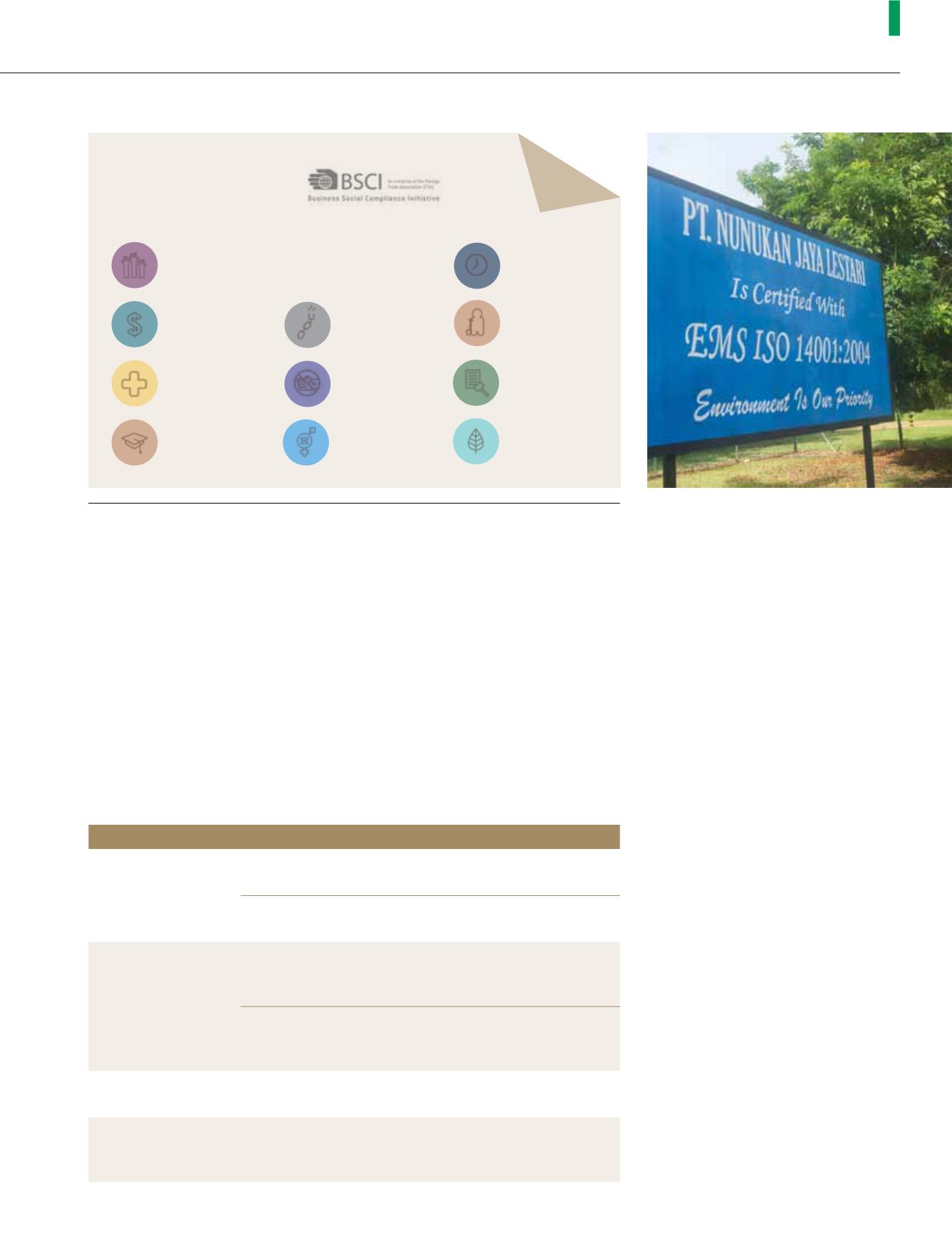 5 1
Kumpulan Fima Berhad (11817-V) •
Annual Report 2018
IFC's production plant in PNG has received the Marine Stewardship Council ("MSC")
Chain of Custody certification - an indication that IFC has complied with international
best practice in each step of the manufacturing process. To obtain the Chain of
Custody certification, IFC had to pass an independent audit that was conducted
by an accredited certification body and will undergo annual surveillance audits to
demonstrate that it continues to meet the MSC standard which include:
• a randomly chosen batch reconciliation or traceability test to measure the input
and output of fish quantities as MSC fish are processed;
• proper labelling and storage of MSC-certified fish; and
• accurate and reliable record-keeping.
The following companies within the
Bulking Division
have retained the following
accreditations for the handling, storage and shipment of various product categories to
help maintain objective oversight of the quality of its operations:
Company
Accreditation
Type
Fima Bulking
Services Berhad
ISO 9001:2008
Handling, storage & shipment
oleochemicals, oils and fats
ISCC-EU
International Sustainability
Carbon Control
Fimachem
Sdn Bhd
ISO 9001:2008
Transferring from ships, handling,
filling of drums and transport of
hazardous & non-hazardous liquids
OHSAS18001:2007
Transferring from ships, handling,
filling of drums and transport of
hazardous & non-hazardous liquids
Fima Freight
Forwarders Sdn Bhd
ISO 9001:2008
Freight forwarding & bulk
transportation
Fima Palmbulk
Services Sdn Bhd
ISO 9001:2015
Handling, storage & shipment of
oleochemicals, edible oils,
molasses and latex
SUSTAINABILITY REPORT 2018
principles of the
code of conduct
ethical business
behaviour
no child
labour
no precarious
employment
protection of
the environment
the rights of freedom of association
and collective bargaining
fair
remuneration
occupational
health and safety
special protection
for young workers
no bonded
labour
no
discrimination
decent
working hours
The
Plantation Division
's Indonesian
subsidiary, PT Nunukan Jaya Lestari
("PTNJL") is accredited with ISO
14001:2004 Environment Management
System for the processes employed in
the production of its CPO, CPKO and
palm kernel. The Indonesian Sustainable
Palm Oil ("ISPO") audit on PTNJL has
currently been put on hold as authorities
await a definitive outcome of the ongoing
legal suit pertaining to PTNJL's land title
before resuming the audit process for
ISPO consideration. Management does
not believe this will have any material
affect to PTNJL's operations in the near-
term.
In Malaysia, our estates are being
readied to align their operations with
the requirements of the Malaysian
Sustainable Palm Oil ("MSPO"), in
keeping to the mandatory timeline of
30 June 2019 (for entities without any
certifications) to obtain the MSPO
certification. The MSPO standards
provide general principles for the
implementation, establishment and
improvement of the operational practices
of a sustainability system to ensure the
sustainability of palm oil.