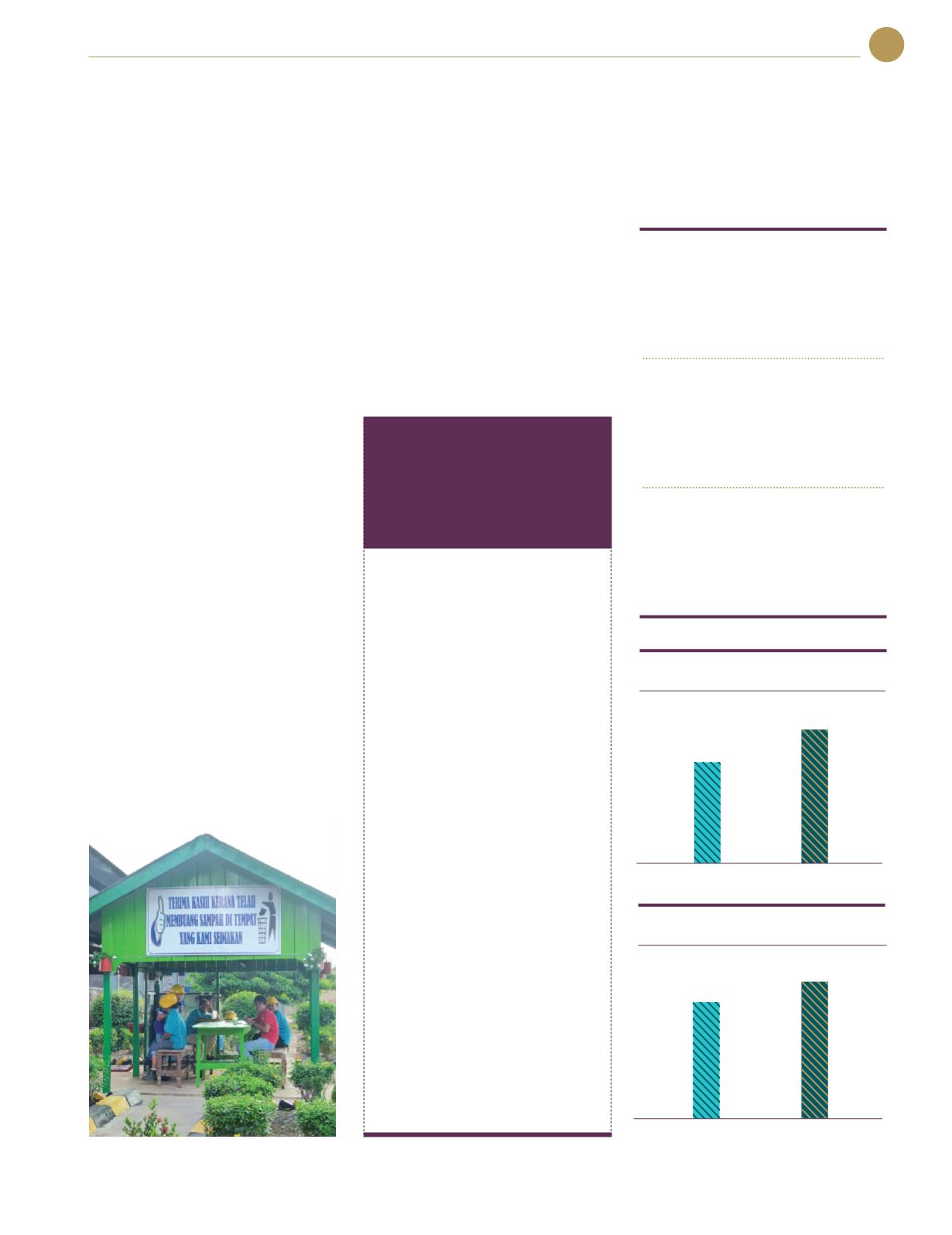 Annual Report 2017
57
22,660
MT
EFB processed in FYE2017
total pome produced
(MT)
123,983
131,563
FYE2017
FYE2016
FYE2017
FYE2016
total efb produced
(MT)
40,332
44,529
71,013
MT
POME applied to estate in FYE2017
51,169
MT
POME applied to compost
in FYE2017
SUSTAINABILITY
REPORT 2017
WASTE MANAGEMENT
The
Plantation Division
adheres to a
"zero waste" policy by recycling waste
and by-products. At our palm oil mill in
Indonesia, oil mill wastes comprising
Palm Oil Mill Effluent ("POME") and EFB
are converted into organic fertilizer or
compost which is then applied directly
at oil palm fields as a source of nutrients
and to supplement fertilizer application.
We monitor and treat all effluent and
wastewater before discharging into the
effluent pond. The organic materials in
the effluent and wastewater are broken
down by natural activities of anaerobic
and aerobic bacteria. This process
eliminates the need to add chemicals
before the POME is applied as land and
compost application.
PTNJL has achieved the Green rating,
the second highest level in Indonesia's
Program
for
Pollution
Control,
Evaluation, and Rating ("PROPER") in the
manufacturing/agroindustry
category
for three consecutive years. The Green
rating is awarded to businesses/activities
that have displayed environmental
management effort and achieved results
better than those required by regulation.
PTNJL has applied 17,671 MT or 44%
of total EFB produced to the fields to
allow for the slow release of organic
nutrients through decomposition while
conserving soil moisture and improving
soil structure. The remaining 56% or
22,660 MT of EFB were processed into
compost for application to the fields as
well as biomass fuel for the boiler.
✓
The Group continuously
seeks to identify
opportunities to reduce
energy use over time such
as transitioning to LED lights
for our corporate office and
installing solar street lights
at our estates.
✓
Employees are encouraged
to power down computers,
printers and lights in areas
that are not in use.
✓
Switching from paper
cheques to e-payments for
a majority of transactions
which also improves
business efficiency.
✓
Recycling bins are
strategically placed in and
around the Head Office
premises.
✓
Our fax system
automatically images
incoming faxes and archives
them to prevent paper
waste.
Small gestures,
BIG
IMPACT